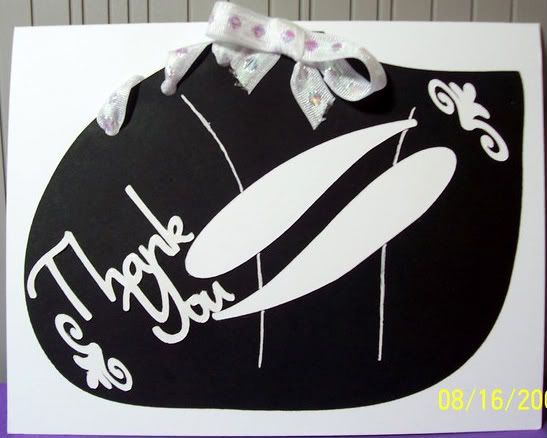 I made this card for a very good friend. She gave my daughter a gift certificate to get some school shoes. I entered this card in a challenge on DailyScrapper's blog
http://abusyplace.blogspot.com/
. The challange was to use any Cricut cut, colors were to be black & white, & you had to use ribbon in some way. you might want to check it out. She has 2 more challenges this weekend.
Details:
I used CDS, PDDU, OA, & SYI. In CDS, I skooched one shoe off of the mat so that it would only cut one. The ribbon is from Michael's. I used a white Gelly Roll pen for the scored marks on the shoe. I also used the CAD to punch the holes to lace the ribbon. I also used Liquid Embossing on the "Thank You", it just doesn't show well in the pic.
Thanks for looking. Questions & comments are welcomed.