I made this gift bag for one of my daughter's best friend's birthday. They don't go to school together anymore & don't get to see each other as much as they would like. So, I wanted her bag to be a little special. I'm sorry the pics don't really do it justice.
Details:
I ran a brown ink pad over the craft paper brown bag & pink & aqua cardstock.
On the aqua cardstock, I used that MS Doily Border Punch (all 4 sides)
On the pink cardstock, I used the Fiskar's Threading Water Border Punch (all 4 sides)
I used the faux bow technique on the top of the pink cardstock.
I cut out scallop circles using the Mini Monograms Cart.
I spelled out her name with the scallop circles using my 1 5/8" Stamp Rite wooden stamper and the large letters & the dotted border from
The Stamp Castle
.
I used my CAD II to kind of randomly punch 5 holes in the pink cardstock. I knotted pink ribbon in the holes and taped in on the back.
I then used a jump ring to attach the letters to the ribbon.
We used an extra scallop circle to have a from tag & attached it to the edge of the top layer.
I layered them all together & attached it to the front of the bag.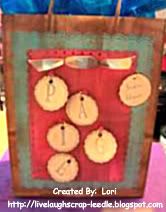 Close up: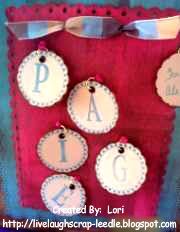 Thanks for looking. Questions & comments are always welcomed.
Lori
A Proud member of
The Lime Light
. Click on over to see what we are doing.