This is the bouquet that I made for my daughter to give to her teacher for the 3rd day (Wednesday) of Teacher Appreciation Week.
Details:
Apple, Ribbon, & #1 Teacher was cut from the Cricut Sampler Cart. (I think)
Bag, A+, & Teacher's name was cut from the Plantin Schoolbook Cart. Also Cricut Design Studio was used to weld the letters together.
Flowers & leaves were cut from the Home Accents Cart.
I cut strips of paper & ran it though my crimper to make the grass filler in the bag.
I still have to make a tag to put on it, but that will be done before my daughter has to bring it to school.
Close up of top:
For the flowers: After I cut them, I crumpled them & rubbed a ColorBox Pigment ink pad over them. I layered them & put a yellow brad in the middle to hold them together. I attached all of the decorations to the painted skewers with Terrifically Tacky Tape.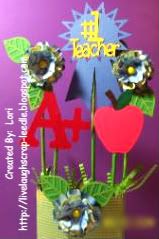 Close up of bag: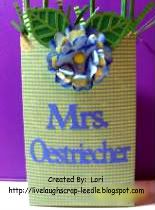 Thanks for looking. Questions & comments are always welcomed.
Lori
A Proud member of
The Lime Light
. Click on over to see what we are doing.