I had first seen a flower pot card posted on the Cricut MB by Janet Waters. I thought the idea was so cute. Then I had seen a video on
Dawn's Blog
on how to make them. She had originally seen the instructions & measurements on
Stephanie's Blog
. To make this one, I used a combination of Dawn's & Stephanie's instructions & added a little of my own touches too.
It was made as a Thank You Card for some very good friends (honorary family), my daughter's Parran & his wife.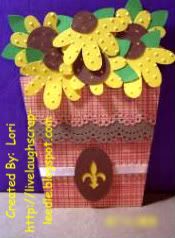 I used the instruction to cut the card & fold to make the flower pot. I also used their measurements to cut the pullout card. For the front top part of the pot I used my MS Doily Border Punch & added another bordered piece of cardstock for some contrast. I used pop-dots to have the top edge stand out a little. To hold pocket of the card, I just added a very small piece of Terrifcally Tacky Tape (red liner tape)to the top corners.
I cut the sunflowers from the Walk in my Garden Cart. in varying sizes. I used the Swiss Dots embossing folder with my Cuttlebug on the flowers to give some texture. I then added them to the top of the pull out card with pop-dots.
I decorated with a ribbon & I cut the oval from the George cart. & the fleur-de-lis from the Wild card cart.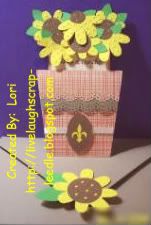 I used my Ultimate Crafter's Companion to make the envelope.
Thanks for looking. Comments and questions are always welcomed.
Lori