I made these
twinchies
for a swap on the
Cricut
MB that is hosted by
KellyScott
.
Twinchies
are handmade
embellishments
that are 2"x2". i enjoyed making the
inchies
(1"x1"), but the
twinchies
give a little more options to be able to work with them & decorate. We also decided that they did not just have to be square. The base could be any shape as long as it was 2"x2".
The first one I did was the dog.
My base was an octagon from the
George
& Basic Shapes Cart. I inked around the edges with a brown
Colorbox
ink pad.
I cut the dog from the
Doodlecharms
Cart. I cut 3 layers of the blackout shape, 2 in brown & 1 in black.
The black black out shape is the base for the top layer (tan) with a black nose (I used black Liquid Embossing over the black
cardstock
) & brown ears & eye spot.
I also inked around the ears on the top dog with a brown Le-Plume II marker.
I used pink chalks to blush the cheeks.
I layered all of the dog pieced with a pop-dot
between
them & a pop-dot between them & the base.
So this one is very dimensional.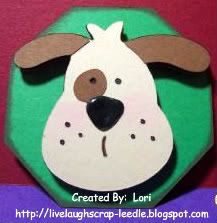 The next one is the seahorse.
My base for this one is just a square with rounded corners cut from the Mini Monograms cart. I embossed this layer in my Cuttle Bug with the Swiss Dots Folder.
The next layer is the square tag also cut from the Mini
Monograms
Cart. I embossed this layer in the
Cuttlebug
with the Spots & Dots Folder.
I thought these 2 together made it look like bubbles & was
cute
with the seahorse.
I c
ut
the seahorse out of the
Doodlecharms
Cart. Layered them & attached to the base layers.
I inked around the seahorse & the markings with a purple
LePlume
II marker. I went
over
the marking & in the center of the tag
holes
with
iridescent
glitter glue.
I liked this one b/c it is so bright & cheery. I think it would be great for a b-day card or a
vacation
card or layout.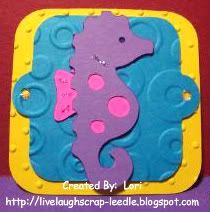 Thanks for looking. Questions & comments are always welcomed.
Lori
A Proud member of The Lime Light. Click on over to see what we are doing.