I made these T-Shirts for my daughter & son using the Freezer Paper Technique and my Cricut. I want to thank Kut-n-Print from the Cricut MB and her daughter for the video tutorial that they made. Kut-n-Print's
BLOG
and
VIDEO
.
Details:
T-Shirts are from Michael's (Jerzee) $2 a piece
Tulip soft fabric paint
Reynold's Freezer Paper
Indie Art Cart for both designs
Choose your design & cit it out shiny side up. If you are cutting out letters or words you have to use the flip function on CDS or on the Expression.
Iron the freezer paper to the shirt shiny side down. It will seal to the shirt.
Paint with sponge brushes. Let it dry. Add another coat of paint if needed. Let it dry. Remove freezer paper & the shirt is ready to wear.
It really takes no time to do. The hardest part is waiting for the paint to dry. You can use a hair dryer to speed it up, but I do recommend waiting several hours before removing the freezer paper. I just helps the edges of the design to be a little sharper.
This is my daughter's shirt (she will be 9 in July).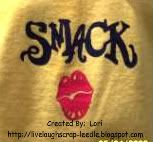 This is my son's shirt (he will be 13 Thursday).
Thanks for looking. Questions & comments are always welcomed.
Lori
A Proud member of
The Lime Light
. Click on over to see what we are doing.