I want to thank AprilDawn on the Cricut MB for posting this idea. Hers is so cute. I made these for my daughter's class for a "Kick Off Summer" treat.
Details:
I cut a 12x12 sheet of double sided cardstock in half. Scored it at 3 1/2 & folded to make a pocket. I used my Fiskars trimmer with the scallop blade to make the edges look like waves & layered a couple of layers in different colors of blue. I inked around the edges of the pocket.
I cut enjoy out with the Wildcard Cart.
I cut Summer out with the Stretch Your Imagination Cart.
I used blue, orange, & yellow glitter pens to decorate.
I also did the faux bow technique on the top. (hidden by the freezie pops)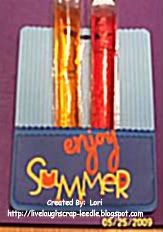 Close up of pocket: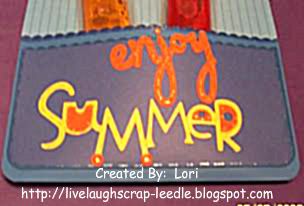 Thanks for looking. Questions & comments are always welcomed.
Lori
A Proud member of
The Lime Light
. Click on over to see what we are doing.