I made these napkin rings for my daughter's Thanksgiving Feast at school. I got the idea from Brigit on the Cricut MB.
HERE
is the link to her turkey. Mine is made differently - but the idea is the same.
This 1st pic is showing the napkin ring standing up. (the colors are better in the 2nd pic. The orange feathers are not really so orange (more like a burnt orangey brown).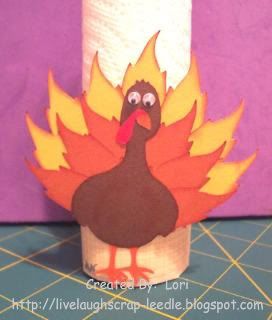 Details: (It seems like a lot - but was really easy.)
TP Roll cut in half for the ring.

Cardstock 4 x 5 3/4 (I think) to cover the TP Roll

Slit the edges & adhere to the inside of the TP Toll. They are long enough to pretty much cover the inside of the roll too. It gives it a more finished look.
Printed Paper 1 3/4 x 5 7/8 to wrap around the holder. (Optional)
Stretch Your Imagination Cart - Leaves (Feathers) (shift & black out) cut at 2" (about 13 per turkey)

Cut 1/2 of what you need flipped
Animal Kingdom Cart - Turkey orange (so the feet would show)

I cut off the feathers from this turkey. I also cut all of the layers in the appropriate colors & layers them.
Googly Eyes
I inked around the turkey body (also added shading between the body & wings) and all of the feathers with brown Color Box Pigment Ink.
I adhered the feathers to the back of the turkey in a pleasing pattern. They are all a little different. I made 14 of them.

In this pic they are laying down. I had to place 2 of them together b/c they rolled the the side.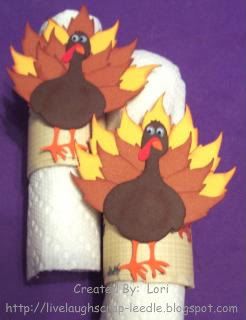 Thanks for looking. Questions & comments are always welcomed.
Lori