This is the first part of the favors for my daughter's school Christmas Party.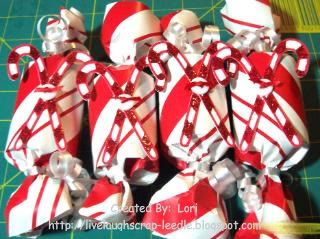 Details:
TP Rolls cut in half to make the holders.
Wrapping Paper
Curling Ribbon
Heat Gun
UTEE mixed with (red) glitter
(?) Cart for the candy canes. For the life of me I can't remember which cart these came from.
CDS - used to hide the other piece of candy from the cuts.
Buttons & Ribbon
Adhesive of choice
Wrap the TP Rolls with the wrapping paper. Tie off one end with the curling ribbon. Fill with candy, toy, or whatever will fit & tie up the other end with curling ribbon. I put in 3 small individually wrapped candy canes. Curl the ribbon.
To decorate:
On the solid parts of the red candy cane pieces I used a Versamarker, covered with UTEE & glitter mixture & set with the heat gun. Repeat until you have the coverage you like (it took me about 3 times for solid coverage).
TIP: Zig 2-way glue works well too for the 1st application of the UTEE & Glitter. Then after heating - not long, go over that with the Versamarker & UTEE combo. one more time. I found that on the 1st application with the Zig glue - more of the UTEE & glitter was adhered.
Thread the button with ribbon & tie into a knot. Trim ribbon & adhere to candy canes. Then adhere the candy canes to the wrapped candy.
Thanks for looking. Questions & comments are always welcomed.
Lori