These are the Christmas Party Favors all packaged up for my daughter's school party. You can see the details on all of the individual pieces here:
Part 1 Wrapped Candy
,
Part 2 Santa Peppermint Patties
,
Part 3 Nugget Presents
,
Part 4 Kit Kat Wrapper
, and
Part 5 Ornaments
.
This is what I consider the front side: Showing the Kit Kat Wrapper & the Wrapped Candy along with the tag (not showing to well.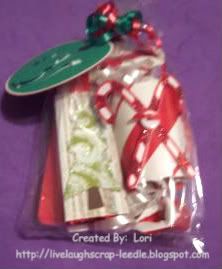 For the tag I used Stretch Your Imagination for the snowman and the circle tags (I think). I made a shadow and regular cut of the circle tag. I used CDS to cut the snowman our of the green layer. I them used Pop Dots to adhere the positive snowman over the negative cut out. My daughter signed the back of the tags.

This is a pic of the backside: Showing the Ornament, Santa Suit Patties, and the Nugget Presents.

Thanks for looking. Questions & comments are always welcomed.

Lori