I have seen so many different Kit Kat Wrappers on so many blogs & boards. Too many to give any one person credit. So let's just say that if you have ever made these & posted them somewhere - you can take some of the credit for this idea. Thank You!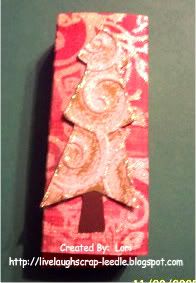 Details:
Fits 2 mini Kit Kats
Doodlecharms Cart for the tree
Cuttlebug w/ Divine Swirls Embossing Folder
Snow-Tex
Opalescent Clear Glitter Glue
Terrifically Tacky Tape
Printed cardstock is cut at 5 1/8" x 3 1/2". It is scored at 1 1/8 and 1 7/8 from each end.
After cutting & adhering the tree layer to the base, I ran it through my Cuttlebug. I them stippled some Snow-Tex around the embossed areas of the tree (not being too careful, I didn't want to cover the entire tree top but I did want some texture & coverage). After that dried, I went of the edges & embossed areas of the tree top with the glitter glue. When that was dry I adhered the trees to the wrapper.
Thanks for looking. Questions & comments are always welcomed.
Lori