I made these paper bows using
Tammy's Video Tutorial
on the
Christmas With The Cricut Blog
. At the end of the tutorial for the Explosion Box there is a video on how to make these bows. Thanks so much Tammy. These were so much fun & easy to make.
This was my first bow. I made this just out of cheap plain cardstock (not knowing if this would be a successful attempt). I was very pleased with how it turned out so I added some dots of clear opalescence glitter glue to the bow.
This was the 2nd bow. I made this with some double sided Christmas cardstock. I wanted to try something a little different with this one though (narrower strips). I think I like the original one better, but the narrower strips might work better if you make a smaller bow (shorter strips).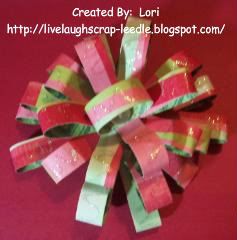 Overall I am happy with them & will definitely be making many more for all occasions.
Thanks for looking. Questions & comments are always welcomed.
Lori