Update: After I posted this, I noticed that they have a New Video for
Donna's Layered Flowers
. I could not go without adding it to this post. It is wonderful and Donna is so excited about them.
I just love these flowers. The inspiration came from
This Video
from
Leah's Scrapbook Room Videos
. I call them Donna's Flowers. I just love her style. She makes hers from old dictionary pages and the Accucut Die System. I used an old phone book and cut a 6 inch scallop circle with my Cricut, then just basically followed her instruction. I don't have glimmer mist or anything like that. So I just ran a pigment ink pad over my crumpled flower until it looked the way I wanted it to. Then I just lightly spritzed it with water to make it a little more pliable.
This is a single layer flower with an embellishment (adhesive backed) from a pack that I found at the Dollar Tree.
I sprayed them with Krylon Preserve It, just to help them keep. I also brushed them with some Mod Podge. This gave them a little shine & gave them a little more stability.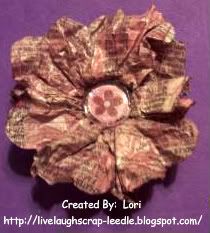 The next one is a double layered flower with a button in the center. I used it to embellish a sticky note holder that I made (see previous post).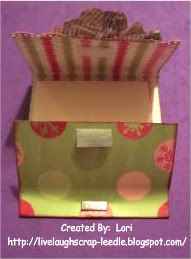 Thanks for looking. Questions & comments are always welcomed.
Lori