Well here are my newest and favorite tools, Bind-It-All v. 2.0 and ATG (Automatic Tape Gun). Newest & favorite next to my Cricut that is! These are really belated Christmas gifts and I am so glad to have them.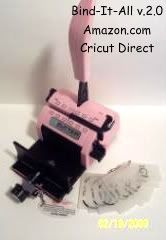 My BIA: My SIL & BIL gave me a gift certificate for Amazon.com so this is what it went towards. I have played with it a little (project in future post). I say a little, b/c I still don't have any binding wires. I have them on order from a gift certificate from Hobby Lobby from my other BIL & SIL - with that I am also getting the tool kit (blue) and the Round-It-All (pink 1/2") for the corners of my books & projects.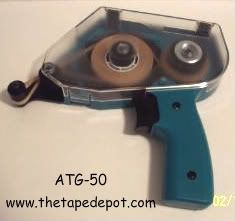 My ATG: My grandmother always gives us money for Christmas. I try ( doesn't always happen) to use it for something that I really want. This year I did. Well this is the one I have been waiting for ever since I found the Cricut MB. Those people over there really do enable. This has been a topic of many debates on which one to get. I chose the ATG 50, b/c it was much more cost effective. The Tape Depot offers free shipping and I have heard so many great reviews on this gun and the company. Their tape is cheaper than I have found anywhere else & so far I don't have any problems with it.
Tip on loading the ATG: The tape has to pushed down completely onto the front wheel. There is little tab on the base of the front wheel. This has to be lined up with one of the holes in the core of the tape and push it on all the way. There are also 2 notches on the back wheel. I threaded the tip of the tape into it to hold it securely. If you do these 2 things, you will not have any problem with your tape rolling firmly onto the back wheel.
I just found a great video on youtube from CCCamigos that explains it perfectly how to load & use the ATG-50. Click
HERE
to see it.
Thanks for looking. Questions and comments are always welcomed.
Lori
A Proud member of
The Lime Light
. Click on over to see what we are doing.