This is the first project that I have done with my BIA & ATG. I still don't have the wires to bind with my BIA so I just used it to punch the binding holes. This was so much easier to get it all lined up correctly & all holes were punched at the same time so all are aligned properly. I just use varying shades of blue ribbon to bind the Paper Bag Album. I inked around the pages with ColorBox Petals Pigment Ink before putting the cardstock mats on the pages. I used my Fiskars (Heritage) corner rounder on some of the pages and a Fiskars round corner rounder on other pages. My ATG was used to adhere all of the cardstock to the paper bag pages. I'm still not sure where this album will be going, so it still needs to be embellished. That will be done mostly with Cricut cuts and lots of other embellies.
I just can't say enough about my ATG. I just LOVE it.
Front Cover: It is hard to see but there are iridescent glitter glue dots on each corner of the light blue.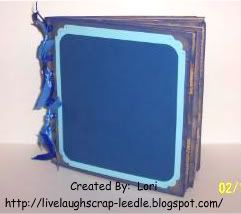 Pgs. 1 & 2:
Pgs. 3 & 4:
Pgs. 5 & 6:
Pgs. 7 & 8:
Pgs. 9 & 10:
Back Cover: Same as the front with the glitter glue.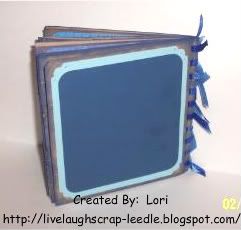 Thanks for looking. Questions and comments are always welcomed.
Lori
A Proud member of
The Lime Light
. Click on over to see what we are doing.