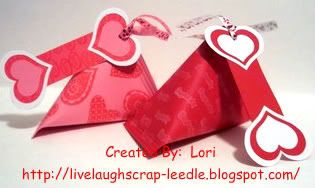 Well, these are the party favors for my daughter's second grade class. I was having a hard time with how to make favors for boys for Valentines day that were not too "girly". Well, they will like the candy inside anyway.
I made 4 red ones for the boys. I stamped the red cardstock with white ink. I used the XOXOXO stamp in the Studio G Feb. set. Then I made bookmarks (using CDS to weld hearts & a rectangle) stamped with red on red hearts & layered silhouette ans solid hearts on the ends of the bookmark. I used white ribbon with red hearts on the end of the bookmarks and to attach them to the sour cream containers. Click
HERE
for instructions. I also used my crimper & Terrifically Tacky Tape to seal the edges. To make the containers I used 8 x 5 1/2 cardstock. I wanted these to be a little bigger. They are filled with a mini fruit roll up, a fruit by the foot, and a plastic heart maze.
I made 7 pink ones for the girls. The girl's containers are pink with red hearts stamped (misc. stamp that I picked up somewhere). For the bookmarks I used a deeper pink & stamped love on them from the Feb. Studio G set. I made the ends of these with white & lighter pink hearts. The ribbon on these where pink with red hearts.
Thanks for looking. Questions and comments are always welcomed.
Lori
A Proud member of
The Lime Light
. Click on over to see what we are doing.