Well here are the Valentines that I made for my daughter to give out in her class. I am also in charge of the favors (Yea!!, I'm so happy to do this. It gives me another reason to play with my Cricut stuff.). So, the Valentine's Party Favors will be posted as soon as I get them finished. BTW, sorry for the blurry pics.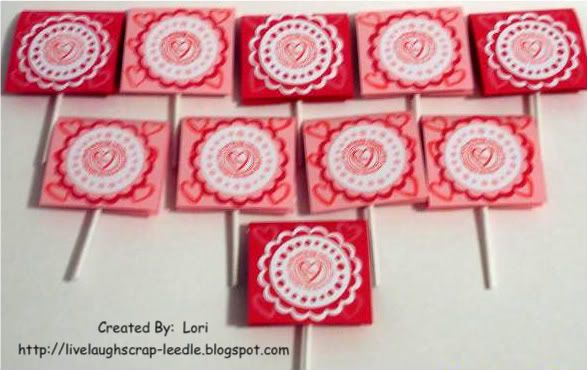 This is a pic of the entire bunch. There are only 11 children in her class. I used Jolly Rancher heart shaped suckers. I cut Cardstock approx. 3x6. I stamped the cut cardstock with hearts from the Feb. set of Studio G Stamps. The pink I stamped with red ink and the red I stamped with white ink. I put a glue dot on both sides of the sucker & attached the folded cardstock. I used red and white for the boys (I didn't want them to be too girly) and pink, white, and red for the girls. Very Simple.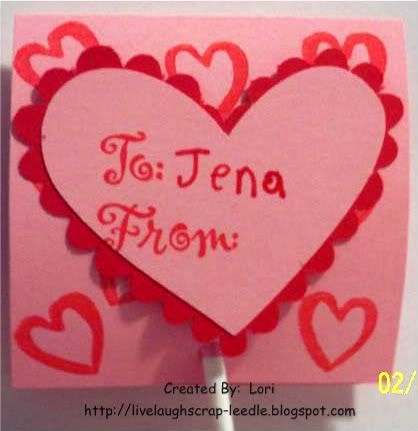 This is the back. I used Doodle Charms for the hearts & layered. I used a To: From: stamp from a Stampin Up set that I had gotten from a garage sale at my son's school a while back. and my daughter signed them. I attached them with glue dots. (She forgot to put her name on this one b-4 I took the pic. Good thing I chose this one for the pic.)
And, this is the front. I used Mini Monograms for the scallops and the holey circle. I used another stamp from the Feb. Studio G stamp set. I attached them all with clue dots.
Thanks for looking. All questions and comments are always welcomed.
Lori
A Proud member of
The Lime Light
. Click on over to see what we are doing.