You can click
HERE
to see what the Newborn Bouquet looked like. This was for my God Daughter. I told my brother that I would re-do it for special occasions in her life. I took out all of the sticks & newborn cuts & gave them to them to use in her scrapbook.
Then I turned it into a Happy 1st Birthday Bouquet:
I used Plantin Schoolbook for the signs & Doodlecharms for the Birthday hat. I can't remember which cart the balloons came from. The butterflies came from Home Accents & Indie Art.
The big pink & white flowers I made. I used crept paper streamers that I had left over from Karissa's baby shower. I ran thread down one side of the crept paper & gathered it. The I attached the 2 ends together to make a circle. To get the circled in different sized just trim the crept paper to varying widths. I layered them & added a skittle to the center. I got this wonderful idea from
Johanna
, so thanks Johanna. I saw her describing these on this
VIDEO
, please go check it out - she has other great ideas for that crept paper.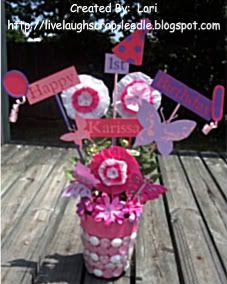 Thanks for looking. Questions & comments are always welcomed.
Lori
A Proud member of
The Lime Light
. Click on over to see what we are doing.