I want to thank Angie for her wonderful videos. There is a link on the right side of my blog under "My Favorite Videos", where you can see all of her videos -
Chic 'n Scratch Videos
. You can see this one
HERE
, this is where I got the inspiration for these Pocket Envelope / Cards.
I made both of these for my
BFF's
daughter. Her name is
Fallyn
and she has a birthday
coming
up and a dance review.
This one is going to be for her birthday.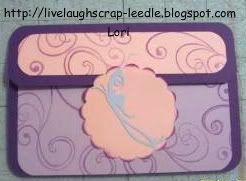 This one is going to be for her dance review.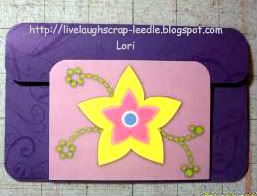 This pic kind of shows how it works. There are 2 pockets inside, one for a message and the other for a
gift card
, money, or whatever will fit. The image on the front holds the flap of the envelope closed.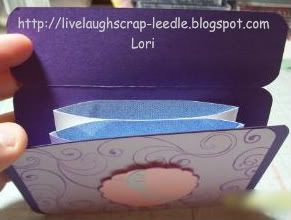 I can see me making so many more of these. They are so easy and fun to make.
Thanks for looking. Questions & comments are always welcomed.
Lori
A Proud member of
The Lime Light
. Click on over to see what we are doing.