I want to Thank Scrapalette from the Cricut MB for this idea. She made 2 Liter Bottle Gifts & was kind enough to show us how she did it.
HERE
is the link to her project & directions.
So I just did the same with the regular size water bottles. I thought it would be fun to see the "know-it-all" thirteen year old boys trying to get it open. And better yet trying to figure out how i got the big items in the bottle in the first place. All they wanted to do was cut it open to get the stuff out. Oh well, it was a fun way to package the favors anyway.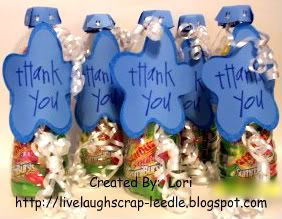 Thanks for looking. Questions & comments are always welcomed.
Lori
A Proud member of
The Lime Light
. Click on over to see what we are doing.