I came across a post on the Cricut MB about fun things for kid's to do. Well this little girl (with the help of her mom) started a blog for kids to do craft challenges. The name of the blog is
Scrappy Piglet
. Ainsleigh is the most adorable thing. She likes making cards with her mom, but she didn't want to do the same challenges. So she is making up her own challenges for kids 13 & under to participate in.
The first challenge was to make a card with your favorite animal on it. I have to tell you Alexis loved making this card. I "FINALLY" (as she would say) taught her to use the baby Cricut. She originally wanted to put a horse on it, then she saw the lamb & fell in love with it. She has a baby boy cousin being born in a couple of weeks, so she made this card to welcome him to the family.
She had so much fun using the Cricut, ATG, & Cuttlebug. You should have seen her face when I told her that she could use my ATG. She said "Me, all by myself?!!"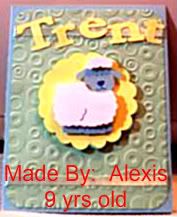 Details:
Carts: Plantin Schoolbook for the name, Mini Monograms for the scalloped circle, & Animal Kingdom for the lamb.
Cuttlebug & Spots & Dots embossing folder.
She used pop dots to pop up the fur of the lamb & the entire scallop.
Misc. ribbon was used for a border on the top & bottom of the card.
Thanks for looking. Questions & comments are always welcomed.
Lori
A Proud member of
The Lime Light
. Click on over to see what we are doing.