Well, someone in our Trinchies Swap could not fulfill their commitment. So I took 2 extra spots. Not a problem b/c I have become so addicted to making these Inchies, Twinchies, and Trinchies and am having a ball.
I used Mini Monograms for the Scallop & the center circle. i used the indie Art cart for the butterfly.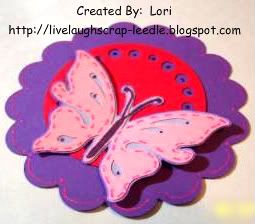 I think i used the Mini Monograms Cart for the shadow flower base. I used Indie Art for the strawberry & ran the red & green parts through the Cuttlebug with embossing folders.
Now onto the inchies. The bee, turtle, & snail are all from the Walk In My Garden Cart. The Fleur di lis is from the Wild Card Cart. I like trying to do the bases a little different shape as long as they fit the size requirement. I used the cylinder (bee) and the (Shift H) (snail) on the George & Basic Shaped Cart.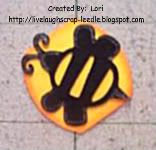 Thanks for looking. Questions & comments are always welcomed.
Lori
A Proud member of
The Lime Light
. Click on over to see what we are doing.