This wreath was made for a new baby that will be here soon. The room is done is a sports theme & the parents are huge Saints fans. This will, I'm sure hang in Austin's room for a long time to come.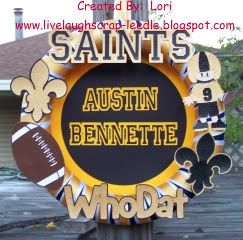 I used my Gypsy & Cricut to design & create this project.
Carts Used:
Sports Mania - Football
Accent Essentials - Fleur de lis
Everyday Paper Dolls - Football Player
Varsity Letter (Lite) - Name,Saints & 9 (name & saints welded on Gypsy)
Disney Pooh Font Set - WhoDat (welded in gypsy)
All pieces (attached to the outside of the wreath) were cut from 140 lb. watercolor paper, painted with acrylic paint & sealed with Krylon Preserve It.
The center pieces were cut from cardstock & adhered to the back of the wreath.
Thanks for looking. Questions & comments are always welcomed. Lori