These are some more gift card holders that I had made. The image on the front is adhered with Pop-Dots to the lower part of the holder. The image holds down the top flap of the holder.
My aunt wanted some for the gift cards she is giving to all of the kids in the family.
Single Pocket Gift Card Holders:
Double Pocket Gift Card Holders:
The assembly for these is the same as the ones above. The only thing different is that I folded an envelope in half, adhered the halves together, cut off the top edges of the envie (to make pockets). Then adhered the envie inside the holder.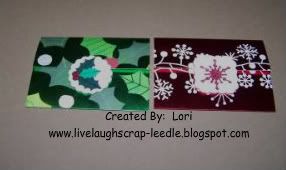 Thanks for looking. Questions & comments are always welcomed. Lori