I made this card for a very special little girl that is turning 11 today. Her name is Kennedy & she is the daughter of a very good friend of ours. When I did the craft fair in September, she had told me that she loved owls. So when I found out that her today was her b-day I had to make her an owl b-day card.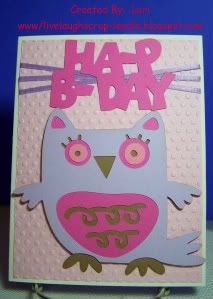 I used my Gypsy and Cricut to design & created this card.
Owl - Hoot & Hollar Cart (Lite)
Sentiment - Smiley Cards
Cuttlebug with the Polka Dots Embossing Folder for the background.
Thanks for looking. Questions & comments are always welcomed. Lori