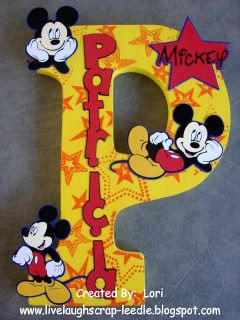 I made this one for my friend's aunt. She just loves Mickey Mouse.
Instructions:
1) White wooden letter -painted with acrylic paint, stamped with stars, sealed with Krylon Preserve It
2) Mickey Font Cartridge for the name. I used my Gypsy to weld the shadow & top layer letters & layered
them.
3) Mickey and Friends Cartridge for all of the images. I use my Gypsy to size all of the pieces to make sure they will fit nicely on the letter.
4) I seal each image (after being assembled) with the Krylon Preserve It, Then adhere all pieces to the letter.
This is the same process for all letters that I make. The only thing that might be different is if the letters are not welded.
Thanks for looking. Questions & comments are always welcomed. Lori