This was one of the altered composition notebooks that I had for my craft fair. One of my friends really wanted it, but decided to wait on it. Her daughter, 7 yrs old, loves to write. She wanted it for her to write her stories in & to have for her own personal use, writings that she could keep to herself. I guess she wants it to be like a personal journal or diary for her. So since I knew she wanted it, I personalized it with her name & some butterflies. I am giving it to her as a gift.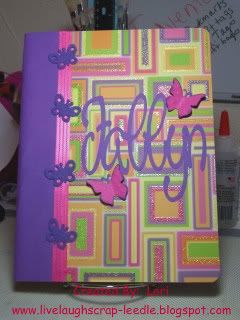 I welded the letters & butterflies together using my Gypsy.
The butterflies are from the Lacy Labels (Lite) cartridge.
The letters for the name are from the Lyrical Letters Cartridge.
I also cut duplicate butterflies (in pink), pan them through my Cuttlebug with the polka Dots Embossing Folder, & inked the edges w/ purple ink. They are adhered down only on the body portion so that the wings are dimensional. I also cut off the antennae of the pink butterflies. This lets the purple show & less to have to line up.
Thanks for looking. Questions & comments are always welcomed. Lori