The idea for this card came from the
Flower Pot Card
that I had made a while back. I just recently got the Sweet Treats Cricut Cart & thought that it would be nice to make a similar card with a cupcake. I really like the way this came out.
A good friend of our's daughter is turning 6 shortly. I thought I would make a special card for her. Happy Birthday Laici!!
This is the card. It does not open up. There is a pic further down showing the message.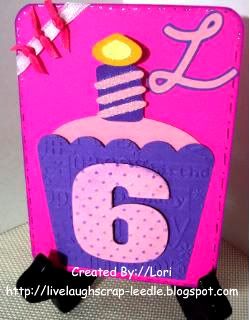 I just cut a rectangle for the base & rounded the corners.
Sweet Treats Cart (cupcake 2) for all of the cupcake parts & the 6
Pop dotted the 6 on top of the wrapper
Opposites Attract Cart for the L
Cuttlebug & Happy Birthday Embossing Folder & Swiss Dots Embossing Folder
Added some ribbon & gel marker stitching
This is the "opened" card and the envelope. Just pull up on the cupcake & it slides out of the wrapper.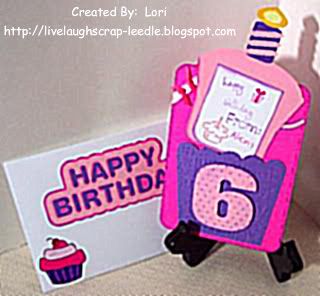 On the slide out:
Inked around the edges of a smaller piece of white cardstock & stamped message (Stampendous - Everything happy Stamp Set)
Tonic Cupcake Punch (can also be used in the Border System to make borders) in the bottom corner
Martha Stewart Course Crystal Glitter on the flame, candle stripes, & punched cupcake
Envelope:
I made the envie using my Crafter's Companion
Hello Kitty Greetings Cart for the Happy Birthday
Studio G $1 Cupcake Stamp from Michael's
Colored in the stamp with LePlume II markers
Added a clear skittle on top of the Cherry for a dimensional effect.
Close up of the cupcake on the envie: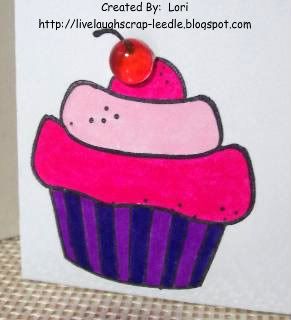 Thanks for looking. Questions & comments are always welcomed.
Lori