Please tell me what you think about selling hand made embellishments at craft shows. Do you think they would sell? Is it a good idea?
I am just loving making these flowers. I have been flattening out the back so that I can use them on cards & such. But, I think I have to try to make some 3-D Bouquets too. I also started making leaves for them. I painted the phone book pages the same way, then I just cut the leaves freehand with deco edge scissors.
These were done with orange (mixed yellow & red) and lightly went over them with yellow. Two of them have yellow skittles in the center. The other has an orange button threaded with natural hemp twine in the center. Some of these, the top layer was put together with torn pieces of the painted paper. Others, I tore the petals of the flower & arranged freehand & glued.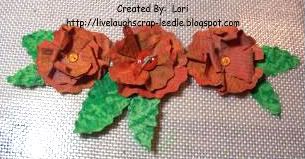 The bottom flower was made with light & dark blue. The top is one of the orange & yellow flowers. The orange one is one of the torn flowers. I covered an I-Top brad with some similarly colored cardstock for the center. The phone book pages, I find are too thin to use in the I-Top, they tend to tear. I have also found that thick cardstock is sometimes too think for the I-Top. I crinkle or rumple it up to soften it a bit. Once it goes through the I-Top it is smoothed out & looks great.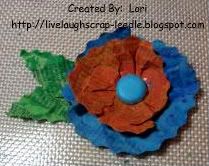 Thanks for looking. Questions & comments are always welcomed.
Lori