I can finally show this post. I had to wait until I could give this to my niece.
Ok
so this is about the 5
th
Wall Letter that I have done. I love doing them, but I stress myself out trying to make them fit the person that they are for. Last time I got the first boy one out of the way. Now this one is for my niece, but she is 20 years old. I tried to capture her personality & her interests in this. I hope I did good. She is a very good artist, so I am just praying that she will like it. What was I thinking, trying to give a craft gift to someone that is so talented herself? I can't wait for her to get this to finally stop stressing.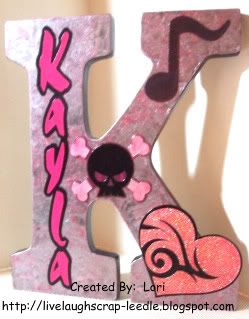 Details:
White wooden letter from Michael's.
Indie Art
Cricut
Cart. for the heart and the skull.
Stretch Your
Imagination
Cricut
Cart. for the music symbol.
I painted the letter with black acrylic paint.
I used Tim
Holtz
Distress Paint (Brushed Pewter) on the top of the letter. I used my fingers to give it some texture. When that dried I brushed over it with Tim
Holtz
Distress Ink pad (Worn Lipstick). My niece's favorite colors are pink & black. I did the same to the cross bones of the skull.
I used
UTEE
mixed with glitter and heat embossed that to the top layer of the heart.
After everything was adhered to the letter, I put a layer of Mod
Podge
over it. Then I sprayed it with
Krylon
Preserve It for extra protection.
Now for the reaction:
I think she really liked it. I felt really good when she
opened
it and said "Wow, how did you do that?" Her brother gave me a very good compliment on it too. He said that if he could capture Kayla and put her on a letter, this would be exactly it.
Glad that is over. I think I need to have more confidence in my work. I stress over it too much. I just want the people that I am making things for to really like them.
Thanks for looking. Questions & comments are always welcomed.
Lori