I made this frame as a memorial to Tasha. I have a picture of her from 1994 and a picture of her in 2009.
The saying, I thought fit perfectly. I had seen it in a magazine selling a cement paw with the saying on it.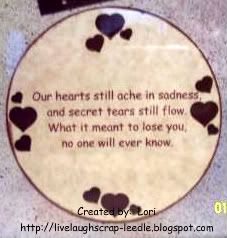 Details:
Alphalicious Cricut Cart. was used for her name. I cut it in cardstock and 140 lb. watercolor paper to give it a little dimension (kind of like chipboard) and layered it. I inked the edges of the letters.
George Cricut Cart. was used to cut the circle. I printed the saying on my computer onto the circle.
Tonic Border Punch System w/ Hearts Punch was used on the base rectangle. I added the punched out hearts to the circle. Inked the circle. I used natural hemp twine threaded around the rectangle.
Tonic Arrowhead 2 in 1 Corner Punch was used on both mats for the pictures. Tucked the corners of each picture into the cut out corner slots.
Thanks for looking. Questions & comments are always welcomed.
Lori