As you may or may not know I am trying to get together some inventory to do craft fairs in my area. I still want to make some projects to have on hand to sell. But, I also had a thought to make embellishments to sell also. I know I go to craft shows a lot of the time to get ideas. I'm sure I am not the only one. It's good to have our crafts for those that don't crafts. But I thought that it would be nice to have some handmade embellishments for those that do craft. I mean - we all still buy embellishments that we see & like even though we can make them. I think that is the nature of the beast we call crafting -
LOL
.
So last night I sat down to make some paper flowers. This
VIDEO
is what first inspired me to make
these
flowers. Then Donna came out with
VIDEO 2
. You really need to see both videos that are wonderful. Although I did put my spin on them. I don't have all of the materials that Donna has, so I improvised & I think I really like how they came out.
I used a roll of electrical tape and one of my rolls of sticky strip as a guide to cut the circles. I was not worried
about
them being perfect. I just tore the paper while holding
down
the rolls of tape.
For this one, I made the flowers with the bare paper. Then (The colors are off in this pic. They are actually
lt.
purple &
lt
. pink.), I watered down some acrylic paint and just kind of splattered it on them. I used my heat gun to help dry them faster (I tend to be impatient.). I then glues them together, painted a button with the
acrylic
paint, threaded it with some hemp twine, and coated the button with Mod
Podge
& attached to the
cente
r of
the flower.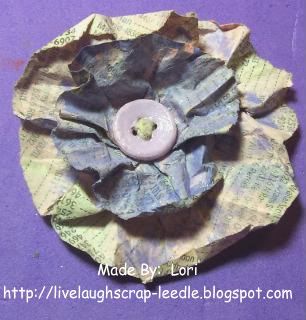 The following 2 were done a little differently & I think I like this method better. I watered down the paint, dried it, crumpled it, then went over it again with wither a lighter or darker paint color. I did this until I liked the look of the paper. Then after the circles were torn, I went around them with wavy deco edges scissors.

This one is Alexis' very first paper flower. She did hers as I showed her while making mine. Its a little more flat, but that's how she wanted it. I think she did a wonderful job for her first time trying. I actually think it looks better than my first paper flower. My first one can be seen
HERE
.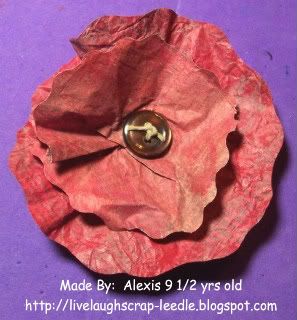 I really like the rustic look about these flowers. I am in the process of making many different colored ones. Forgot to mention, the paper I am using is old phone book pages. Way to RECYCLE, and it's FREE!!!!

Thanks for looking. Questions & comments are always welcomed.

Lori