My son had a birthday party to go to for a 14 yo girl. I didn't know too much about her, so just went with pink, flowers, & bright colors. I found theses packs of mini giftbags at Michael's during Christmas & found that they come in great for making giftbags for small presents & they are wonderful for giftcards.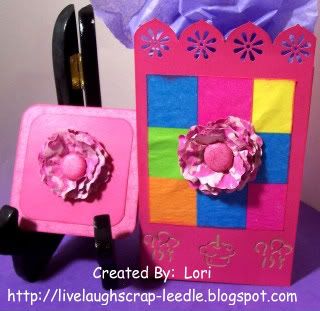 Details:
I-Top for brad in center of flower. I found that one of the flowers on the Sweet Treats Cricut Cart. is perfect for making the circles for the I-Top. I have a file that I will make a post on later. I have one for each size I-top brad.
My phone book page painted flowers.
Tonic Border Punch System for the balloons & cupcakes (at the bottom of the bag) & pinwheels punch for the border at the top
Yoliebean
has a great video tutorial on how to fuse napkins to freezer paper to make your own patterned paper. This is what I used for the bright colored squares on the bag. Mine looks a little bubbly, but you can watch her video & how to do it perfectly.
Thanks for looking. Questions & comments are always welcomed.
Lori