I have been designing shape cards in my Gypsy. This is one of them. I just love the Create A Critter cart. for this. It is so versatile & has so many great images.
I left the inside blank so that I or (anyone else) can decide what it would be used for. It could be a new baby boy card, birthday card for a young boy, "Get Whale Soon" card, or anything you see fit.
I added iridescent glitter glue to the water spout & inked all of the edges.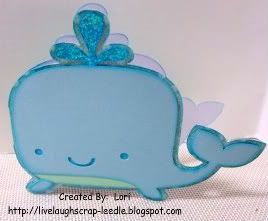 .gypsy File
Thanks for looking. Questions & comments are always welcomed. Lori