My niece inspired this card. So it will probably be her birthday card. She will be 13 next month & her favorite colors are green & purple.
I designed the card out in my Gypsy, but still didn't know how it would look. The girl is from the Forever Young Cart & the background shapes are from the Accent Essentials cart. I am very pleased with it after adding the ribbon & glossy accents to the flower & strip across the bottom of the dress. of course there is also a lot of inking around the edges w/ distress ink. The shadow layer of the girl is also inked up with Peeled Paint distress ink.
The only disappointment I have in it is the purse (notice it is not there). I had glossy accents on it & it got messed up. Also I attached the girl to the shadow first so the purse wouldn't fit right. Oh well, I'll know for next time.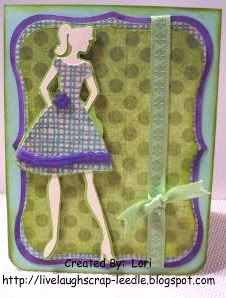 Thanks for looking. Questions & comments are always welcomed.Lori