My Sister-in-Law asked me to make her some flowers. She is going to put them on some clips for my niece's hair. I do spray them with Krylon Preserve It. It gives them some protection from moisture & helps them last longer. I just wouldn't wear them on a day when it would be raining a lot - after all they are only made of cardstock.
Tip: If you are going to use the Preserve It - spray them before adding a gem or anything to the center. If you are using a Matte finish spray - the gem will not shine.
Grunge Flowers:
I used my Gypsy with the Sweet Treats Cartridge for this flower. I used a blackout flower & added a circle to the center. There are tons of tutorials on how to make this flower, so I have no idea who to give credit to. So to all of you with blogs & on You Tube thanks for all of the tutorials. I cut them, formed them, inked them, & assembled them. Then I added a rhinestone in the center.
Scrunch Flowers: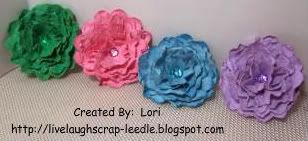 I'm not really sure what these type of flowers are called, so I am calling the Scrunch Flowers. I first saw a tutorial
HERE
, thanks
Christina
for sharing your video. I used this basic idea & changed it up a little bit. I used my Gypsy w. the Sweet Treats Cartridge. I cut a blackout scallop flower in 5 different sizes. I started at 2.5 in. & graduated down by .25 in for each flower. If I am putting them on a card, I might punch a hole & add a brad. But since these will basically be on hair clips I just added a rhinestone to the center. I added some Home Made Glimmer Mist (though it doesn't show in the pic).
Thanks for looking. Questions & comments are always welcomed.
Lori