This wall letter is for my daughter's friend. Her birthday party is next weekend and this is what my daughter wanted me to make for her. Alexis loved it, so let's hope Alyssa will feel the same way. I'm seriously not too worried about that though. Click
HERE
and
HERE
to see what I made for her last year. Her favorite colors are pink & brown and her room is done is those colors too.
White wooden wall letter. (Letter & all embellishments were coated with Krylon Preserve It - Glossy before adhering to make sure they will last.)
Acrylic paint: base color is brown. 2 shades of pink was dabbed all over the brown using a crumpled up plastic grocery bag dipped in the paint.
Name was cut out using SCAL and my Cricut. I Cuttlebugged w/ Floral Fantasy Embossing Folder the top layer of letters & coated with Triple Thick Glaze - thanks to Yoliebean.
The little brown flowers were cut from the George & Basic Shapes Cricut Cart. I glittered them with Martha Stewart Brownstone glitter and added different sized & shades of pink rhinestones in the centers.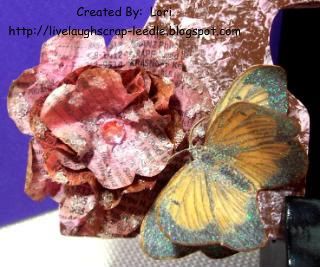 This is one of my phone book page flowers with a rhinestone center. It's a little hard to tell in the pic, but I added some Diamond Dust randomly to the flower to give the impression of dew. You can check out
Scrapsofmine's Video
on how to do this. The only thing I do differently is after it is all dry, I add a coat of Glossy Mod Podge over the top to make sure none of the Diamond Dust falls off. These things are like very tiny shards of glass & hurt if stepped on. Ask me how I know!!!!
The butterfly is from the Amanda Blu Summer Solstice paper stack. I cut out 2 matching butterflies, layered them 0 attaching in the center. I curled the wings a bit & attached near the flower.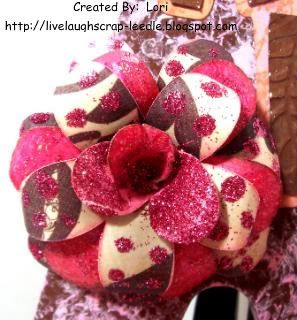 This flower was made using the grunge flower technique. The flower that I used was cut from the Sweet Treats Cricut Cart. I used 2 different printed cardstocks, inked the edges & the back sides of the flowers. I added Martha Stewart Tourmaline glitter for some sparkle.
Thanks for looking. Questions & comments are always welcomed.
Lori