Here is the brown & pink giftbag & tag for Alyssa's "A". You can see that project in the previous post.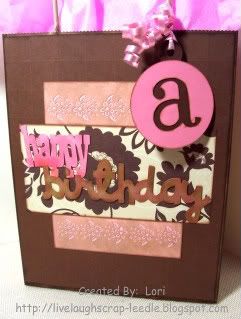 Details:
Tag:
The tag was cut from the Mini Monograms Cricut Cart.
I also cut the circle lowercase "a" from the Mini Monograms Cricut Cart. and fit it over the tag.
I inked around the edges and added pink curling ribbon to attach it to the bag.
Bag:
Craft giftbag
Happy Birthday was cut from the Sweet Treats Cricut Cart. Inked with distress inks.
Tonic Border Punch System with the flower punch
It's hard to see in the pic, but i used my score board and scored (embossed up) lines 1" apart horizontally & vertically on the base cardstock covering the bag. I just did this to add a little texture. Here is where a 12x12 embosser would come in handy.
Thanks for looking. Questions & comments are always welcomed.
Lori