OK, so I have had this idea since I started making my phone book page flowers. Well this is not using one of them, but it is the same idea.
A friend of mine - Hi Nicole!, asked if I could make her a headband with one of my flowers. She liked this flower so I attached it & Waalaa!!!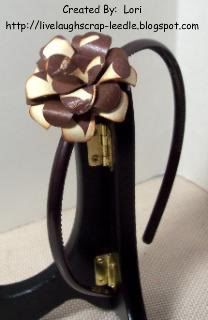 A little different view point.
Details:
Nicole supplied the headband
Grunge Style Flower cut flower from the Sweet Treats Cricut Cart
I cut, inked, and assembled the flower.
The one thing I did, so that hopefully it will be a little more protected was: I sprayed the flower pieces on both sides (after cutting & inking) with Krylon Preserve It. I used glossy, but they also have a matte finish one. (There are so many tutorials on blogs & YouTube as to how to make these flowers.)
To attach the flower to the headband:
I cut a small piece of felt and wrapped it around the headband - attaching it with E6000 glue. Let that sit to get secure. Then I attached the flower to the felt (making sure that there is no felt showing from around the flower) with the E6000. You may have to hold it for a bit until it takes, then just let it sit to get secure. This morning - that flower is not going anywhere.
Thanks for looking. Questions & comments are always welcomed.
Lori