I have started making cards to have on hand. I want to eventually do a craft fair & desperately need inventory. How do you all do it? Whenever I get time to craft, I NEED to make something for a party or some other occasion that came up. This is a slow process for me, but it is steadily growing.
Here is a birthday card that I made.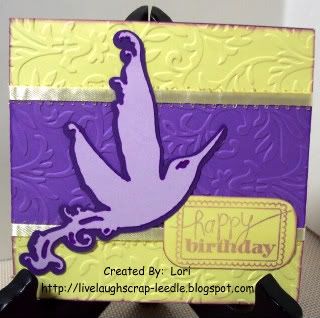 Details:
Home Accents Cricut Cart for the bird
Cuttlebug (? - embossing folder)
Ribbon
Studio G $1 stamp (I think)
Thanks for looking. Questions & comments are always welcomed.
Lori