This making cards just to have on hand is getting a little easier. It's still taking me a while, but I'm getting the hang of it. I am so used to making cards for a particular reason & person. I usually personalize my cards & projects to fit the person that will be receiving them. So making cards just to make them is somewhat difficult for me
But here are 2 more: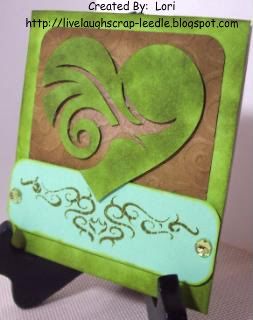 Details:
Indie Art Cricut Cart for the heart
Cuttlebug w/ Swirls Embossing Folder
Distress Inks in Pealed Paint & Vintage Photo
Stamp (?) at this time Sorry - I am horrible about remembering the names of my stamps (unless I am purposefully using a particular set).
Popped up the stamped band & the heart
Rhinestones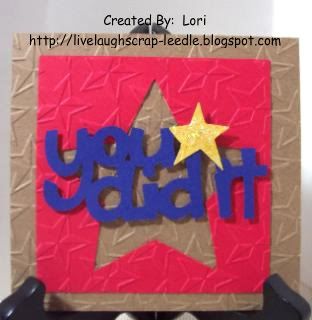 George & Basic Shapes Cricut Cart. for the large cut out star.
Cuttlebug w/ Stars Embossing Folder
Beyond Birthdays Cricut Cart. for the You Did It
Iridescent Glitter Glue on the yellow star
Popped up the You Did It
Thanks for looking. Questions & comments are always welcomed.
Lori