Ok
, here is some of what I have been working on for Christmas. I have been very busy since before Thanksgiving trying to get everything made & finished. So in this & then next 5 posts there might not be much detail. You can always leave a comment or send me an email if you want to know something
specific
about what i used or how I did something. Also there are some things that I did not have a chance to take pics of, but you all will get most of it. Some still can't be shown b/c we have not done our Christmas with everyone yet. Hopefully I will be able to post the rest after this weekend.
Bags that I made to put
giftcards
in. I thought it made a nice touch as
opposed
to just having the
giftcard
holder. They were made from very small craft paper bags.
These were made from the same small craft paper bags. I made these to put the snowman ornaments that I made for some family members. You can see the Christmas Ornaments
HERE
.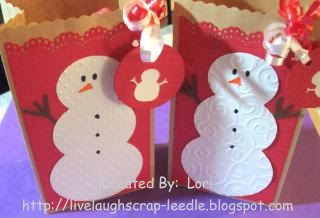 The next 3 pics are bags that I made using regular brown paper
lunchbags
. The first pic I made 10 of these varying a little, but basically the same design. The other 2 are one of a kind.
This bag was a
medium
sized craft paper gift bag that I decorated and made a tag for.
This is the gift tag that I made to put on the small snowman bags.

The rest of these tags were just cut from craft paper
cardstock
inked and
embellished
with a decorated
Cricut
cut.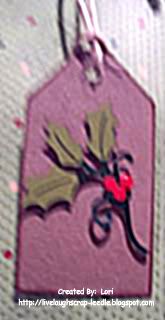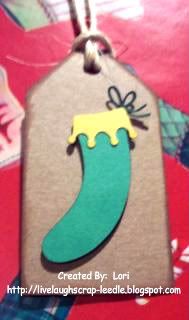 Thanks for looking. Questions & comments are always welcomed.
Lori