Well, I am playing catch up from Christmas. Here are the wall letters that I made for my
nieces
. They would also make great presents for any occasion too.
I used the white wooden letters from Michael's. I painted and decorated them for each of the girl's personalities.
Brooklyne
is 11 years old and her favorite colors are green & purple. (This is the
niece
that I made the
get well bouquet
for earlier.) I used
CDS
for her name & "beautiful". I made my own printed paper with a stamp them cut out the words. I hear embossed the Angel Face. I used misc. buttons &
prima
flowers. I put purple & green ribbon on the outside edge. I sealed the entire letter after being decorated with a spray (Preserve It) sealer.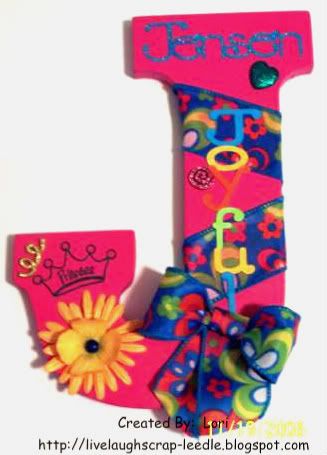 Jensen is my bright eyed 7 year old niece. Her room is decorated in bright colors, so what little girl doesn't like bright pink? I found the perfect ribbon (M's dollar bin) to incorporate all of the colors into this letter. I used CDS to cut her name & the word "joyful". I heat embossed her name & the princess crown. I used misc. buttons, prima flowers with a skittle in the middle. Sealed the same as the letter above.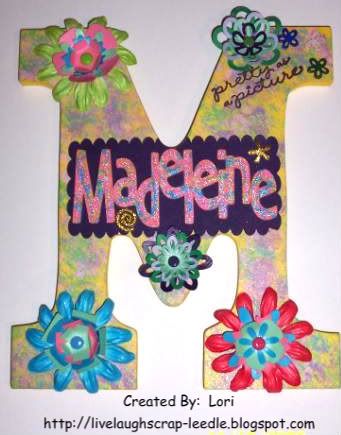 Maddie is 11 too. She is the quiet one in the bunch. I used CDS to cut out her name & make sure the purple scallop would fit. I ciated her name with irridescent glitter glue. I used misc. buttons, lots of prima flowers * cricut cut flowers. I put brads in the middle of all of the flowers to hold them all together. I also heat embossed the "pretty as a picture". Seales the same as above.
Thanks for looking. All questions & comments are welcomed.
Lori
A Proud member of
The Lime Light
. Click on over to see what we are doing.