Today is my grandmother's birthday. I always seem to make the cutesy cards, but I wanted something a little fancier & more elegant. Not sure if I got there, but I am happy with that way it turned out. I must say that I was determined to use patterned cardstock. I am really afraid of it so this card was a stretch. I don't know why - I see so many cards made with printed paper & cardstock that are so beautiful. Then I see the printed cardstock in the stores & they are gorgeous. But, when it comes down to making a card with them I generally freeze up & have no creativity with them. I think I am afraid of them being too busy.
Details:
I used 3 patterned cardstocks from K & Company. The flow is cut out of one of them. I Mod Podged the flower & the photo corners and Pop-Dotted them on the front of the card. I used the Fiskars punch for the photo corners & a Fiskars decorative corner rounder on the layers. I used my Round-It-All for the corners of the card. I edged the card with a dark maroon inkpad from ColorBox. I used a sheer maroon ribbon & layered a teal ribbon over it & attached that to the layers.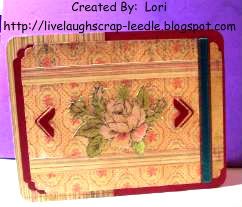 Inside:
Thanks for looking. Questions and comments are always welcomed.
Lori
A Proud member of
The Lime Light
. Click on over to see what we are doing.