Today is my 15th wedding anniversary. But, no this card is not for my husband. I made this card for some very good friends. They were married on the same day as my husband & I. We didn't know them when we got married. Our sons started going to school together in Kindergarten (now in 7th grade). That is how we met. We knew each other for a couple of years before we realized that we shared the same exact anniversary. We will all be celebrating this milestone anniversary this year together. So, I made this card for them.
HAPPY 15TH ANNIVERSARY!! I hope the next 15 & beyond will be as good or better as the past 15.
Darren & I love you both.
Details:
Misc. solid cardstock
K & Company Printed Cardstock
Colorbox Pigment Ink (Bronze) for the edges
Cricut Cartridges used: Opposites Attract, George & Basic Shapes, & Home Accents
I also used Cricut Design Studio for sizing & hiding some elements.
I used my Ultimate Crafter's Companion for sizing & scoring the card & envelope (not pictured).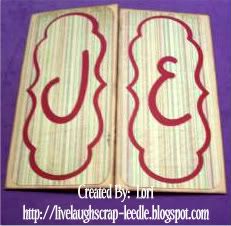 Thanks for looking. Questions and comments are always welcomed.
Lori
A Proud member of
The Lime Light
. Click on over to see what we are doing.