I made these 2 name banners for some very good friends' twin daughters. They just made 10 and their room is half hot pink & half tourquois.
This first one is for Kacie. She picked the tourquois for the room.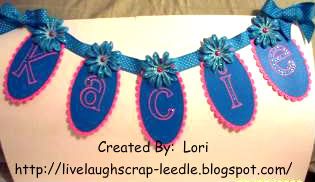 This one is for Katelyn. She picked the pink for the room.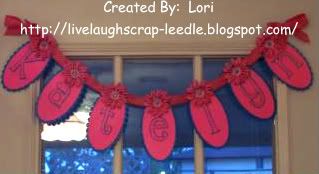 The picks don't show much of the detail very well.
I used the Alphalicious Cart. for this project. It is my newest cart. & I got it because of the crown. Well, while doing these projects I found that I really love this font.
Details:
I cut the scalloped oval tag for the base of each letter.
I cut the oval tag with a shadow letter for each tag.
I then cut out the regular (no shadow) of each letter.
Layered the oval on top of each scallop & placed the letters inside the shadow that was cut out.
I used my Zig 2-Way glue pen to make dots on each scallop and on the letters. I used the Martha Stewart Glitter on them. I put pink on the pink & turquoise on the turquoise. I also painted Mod Podge on the Prima flowers & misc. brads & coated them in glitter too. I must say that I am not much of a fan of glitter b/c of the mess. But this glitter really shines, it is worth the mess & the time.
I want to thank Nilda for posting her
Bow Making Video
. This helped me out so much in making the bows for the ends.
Thanks for looking. Questions and comments are always welcomed.
Lori
A Proud member of
The Lime Light
. Click on over to see what we are doing.