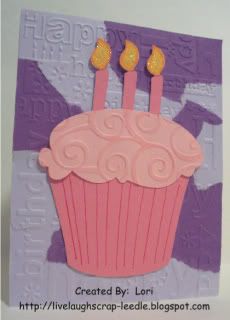 The daughter of some good friends of ours just turned 3. HAPPY BIRTHDAY MORGAN!!! I thought a pink cupcake was in order. I used the Serendipity Technique, Click
HERE
to go to Brigitta's Serendipity Tutorial. I was introduced to this technique by Nilda @
The Cuttlebug Spot
. This technique is so much fun & there is no right or wrong way to do it. Give it a try & come back to post a comment with a link to what you made. I would love to see it.
Details:
Cuttlebug Embossing Folder: Happy Birthday on base.
Cuttlebug Embossing Folder: Devine Swirls on cupcake top.
Cricut CDS for sizing purposes & to cut 2 more candles. The cupcake only had 1 candle & since Morgan is 3, I thought it should have 3 candles.
Cricut Cart: Wild Card for cupcake
I inked around the candles & cupcake. I also inked the Devine Swirls on the cupcake topper & the lines in the cupcake wrapper. The markers I used are LePlume II. I also put iridescent glitter glue on the flames of the candles.
Thanks for looking. Questions & comments are always welcomed.
Lori
A Proud member of
The Lime Light
. Click on over to see what we are doing.