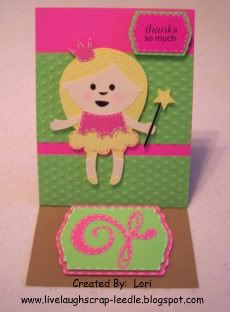 I made this card for Robyn aka
My Pink Stamper
. She is truly an angel sent from heaven. Without going into all of the details & to get to the point: She sent me the Playtime Cartridge that came with her Cricut Expression that she bought at Wal-Mart on Black Friday!!! Yay - how generous is she?!!!!
So I made her this easel card using the Playtime Cartridge. (There was no angel on the cart so I used the princess.)
Card Details:
I used my Gypsy & Cricut to design & create this card.
Easel card base: 11 x 4.25 & scored at 2.75 & 5.5
Playtime Cart: Princess & Swirl
Lacy Labels: Shapes for stamping the easel stand
Cuttlebug w/ Polka Dots embossing folder
MPS Everyday Occasions Stamp Set
Gellyroll Pen & Bic Mark-Its (I need to find the fine point ones) for the pen stitching & hair
This was a really simple card, not too much embellishing, but right to the point. I really hope Robyn likes it & I just love that cart!!!!!!
Thanks Robyn!!!!!!
Thanks for looking. Questions & comments are always welcomed. Lori