So the news is that I spoke to someone that owns a local craft store in Maine. I asked her if she would consider selling some hand made embellishments in her store. I asked if I could send her some of my flowers to see if she liked them & if she would be able to sell them in her store. She said, yes & that she would run them past some groups to see if this is something that they would buy that come in to craft.
This is a pic of the flowers that I sent her to "test" to see if they are "sellable".
This is a pic (using one of my flowers) of the Thank You card that I sent to her for giving me this opportunity.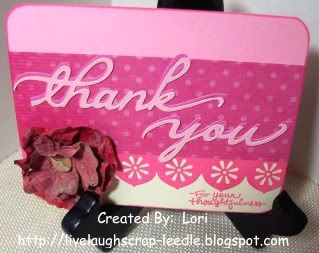 I used the Beyond Birthdays Cricut Cart. for the Thank You.
Tonic Border Punch System with the Pinwheels Punch for the border.
Stamp (unk. stamp set)
One of my Paper Flowers
Thanks for looking. Questions & comments are always welcomed.
Lori